Meet Our Dental Staff
Our Mission
Through kindness, honesty and understanding, our mission is to create trusting relations with our patients and community. We strive to inspire, all to have a healthy and beautiful smile of their dreams.
The Family Dentist of Westlake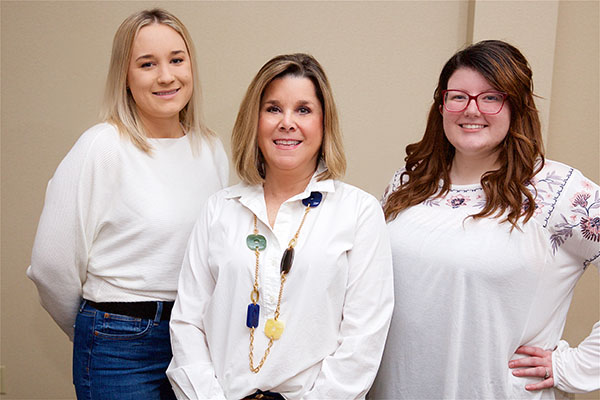 Front Desk Staff
Amanda
Amanda is always happy to hear from you. Whether you need assistance scheduling an appointment or have a question she is ready to assist you in finding a solution. In her free time, Amanda loves playing with her dogs, Luna and Ruca.
Sue, Scheduling Coordinator
Sue is the friendly voice that you hear when you call for an appointment. She will find a convenient time for you to visit and help answer any questions you may have regarding your services. Spending time with her family is Sue's favorite thing to do, especially sleepovers with her grandchildren.
Stephanie
Stephanie is often behind the scenes managing our patients' insurance and financial needs. Though her smile and capability does have a tendency to make its way to all of our team and to our patients. She is an expert in all things insurance and is glad to help you understand and maximize any of your insurance coverage. Outside of the office, Stephanie and her fiancé enjoy hosting game night with family and friends.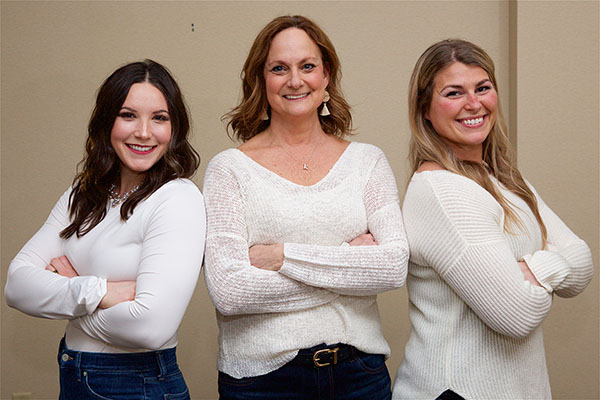 Our Hygienists
Danielle, Registered Dental Hygienist
We are so fortunate to have Danielle on our hygiene team and it is no wonder that her patients rave about her. She is intelligent, caring, and conscientious and knows what each patient needs to make their visit comfortable and help keep their dental health the best it can be. In her spare time, Danielle loves baking cakes and helping her dad around the house.
Kim, Registered Dental Hygienist
Kim is a graduate of The Ohio State University and has more than two decades of experience in treating gums and teeth. With her gentle touch she helps our patients develop and maintain excellent oral health. Kim enjoys being outside whether that is skiing in the mountains or cycling through the metroparks.
Erika, Registered Dental Hygienist
Our patients really enjoy having Erika as their hygienist and continue to ask to see her again. She is energetic, personable and an outstanding dental hygienist. She instantly greets our patients warmly and helps set their dental fears aside while focusing on each patients' individual needs and health. Erika enjoys staying fit and healthy. She likes to do olympic lifting.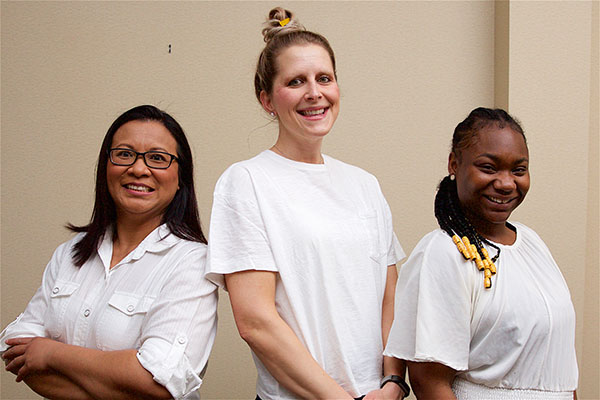 Dental Assistants
Annie
Annie's skill and knowledge makes getting through treatment a breeze! Annie loves the connection that a dental office can have with its community. Annie's patients rave about her because she constantly makes them feel appreciated and recognized. Annie grew up in Hawaii and enjoys making Lei Po'o (head lei) for her family and friends.
Lauren
Lauren brings many years of experience to our team. Dedicated, talented, and friendly, Lauren excels in making our patients feel at ease during their visits. When Lauren is not in the office making patients feel comfortable, she enjoys spending time with her family at the beach.
Darneisha "Dee"
Dee loves the interaction between her patients. She takes pride in her work by being able to help patients relax and feel comfortable during their dental visit. Dee's job enables her to help patients who have real dental fears and allow them to leave at ease and smiling. Dee loves her other job which is being a superhero to her two kids.